PEBBLES
Individually sorted pebbles that create a beautiful flat surface.
Cobbles expands upon our popular Level Pebble Tile with a design created from exotic indonesian marbles. Combining the appealing natural curve of pebbles with a smooth flat marble surface, Cobbles achieves a distinct look.
Using a wide range of large, random shaped stones, we create customized tiles that interlock seamlessly to cover larger areas. Large Random Tile is a more robust option for larger outdoor areas such as patios.
Level Pebble Tile combines the aesthetic of our Perfect Pebble with the flawless, flat surface of our Random tiles. It is an ideal solution for customers who require a flatter surface, yet desire the appearance of natural pebble.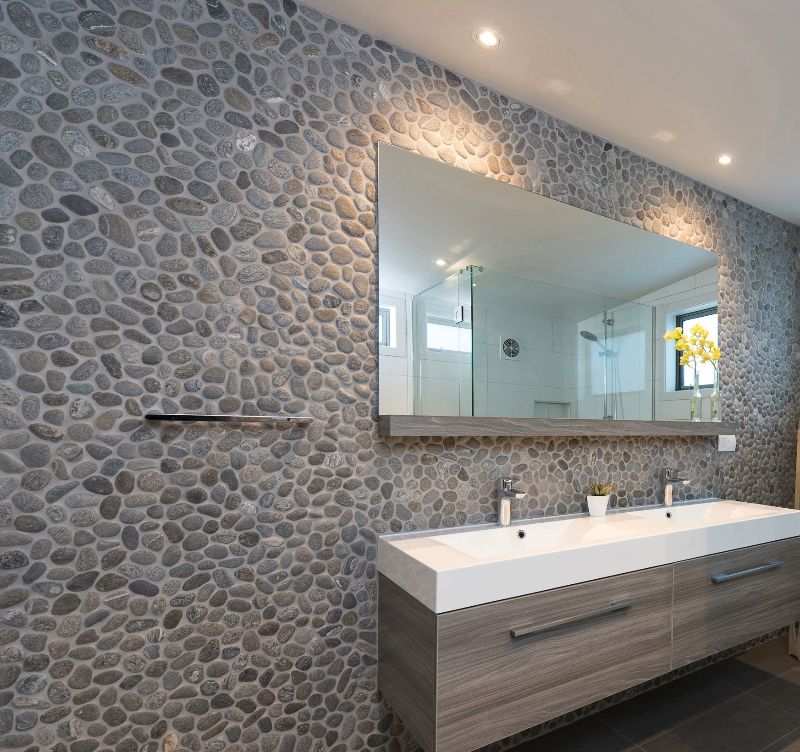 No other pebble offers Perfect Pebbles seamless appearance and smooth flat surface. To create Perfect Pebbles, pebbles are individually sorted to insure only pebbles displaying the highest quality, size, color and flatness are used.
Petite Pebble Tile features the flawless high quality of our Perfect Pebble tile in a smaller size. Tightly woven into interlocking tiles, our new Petite Pebble Tile creates intricate detail and design that is an ideal choice for smaller spaces.
Random Tile brings a unique and dramatic design statement to any space. Using a wide range of random shaped and sized stones, we create customized tiles that interlock seamlessly to cover any area.
An exciting new direction by using the side edge of the pebble as the feature profile. With their uniform horizontal lines and varying pebble heights, our Stacked Pebble tiles create a unique, stylish contemporary look.
Stone is cut in a longitude direction to create a dynamic geometrical appeal of a mosaic tile. Strip Pebble features individual pebbles aligned in rows to create a distinctively linear appearance.